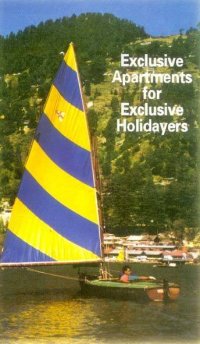 If all you remember of Nainital is the peak summer rush with throngs of people just trying to escape the blistering summer heat of the plains, then do we have a surprise for you ? Come, discover a totally different Nainital with us.

The Nainital as it used to be in the 70's and 80's.

Come to the luxuries of St. Leonard's, an apartment lodge catering to your every need. An old English cottage now an exclusive family owned and run apartment lodge. Located in the midst of an oak forest and yet in the heart of Nainital - only a 7 min drive or a 15 min walk from the heart of town.

We are ideally equipped for families of 4 and 6 with 2 bedroom apartment suites that have their own kitchenettes, living and dining areas, luxurious bedrooms, attached baths, satellite television, telephones in each room, fireplaces and much, much more............

We've even remembered to add laundry service, car park space, and 24 hours hot and cold water supply.

You'll refuse to stay at hotels once you've stayed with us.

So, come and rediscover a different Nainital with.....St. Leonard's !!


How to reach St. Leonardís, Nainital:

When you arrive at Nainital, please ask for directions to Barah Patthar Toll Barrier on the road to Kaladhunghi. From Barah Patthar Toll Barrier (where a direction sign for St.Leonardís is also posted) take the road to Sherwood College / Raj Bhawan. Exactly after 1 Km, on the road to Raj Bhawan to your left is St. Leonardís, Nainital identified with a large red roof. Driving time from Main Mall / Police Station Mallital - 8 mins.

Alternate route is from State Roadways Bus Stand (Tallital) via District Courts, Raj Bhawan, All Saintsí College and Sherwood College Ė from Sherwood College St. Leonardís is exactly 1 Km on your right. Driving Time from State Roadways Bus Stand - 10 mins.


St. Leonard's, Nainital:
Upper Ayarpatta Mall, Mallital,
Nainital (Uttaranchal) 263 001
Phone: (05942) 238470

Booking Office:
St. Leonard's, Nainital.
c/o Rest Assured Corporate Services
4654 Ansari Road (1st Flr.),
21 Daryaganj, New Delhi - 110002 INDIA

Fax & Tel: +91 (11) 23278033
Mobile: +91 9868556983

Email: restassuredcorp@hotmail.com