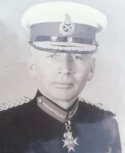 Martin Garrod was born in Darjeeling in India in 1935 and, together with his brother Andrew, attended Sherwood College from 1941 -1944. On return to England he continued his education at Sherborne School and joined the Royal Marines in 1953, passing in top of the who le Royal Navy Special Entry List.

As a junior officer he served with 40 Commando Royal Marines for three separate tours, seeing active service in Cyprus during the Emergency from 1955-1959 and as a Company Second-in-Command and Adjutant in Borneo during the confrontation with Indonesia from 1962 -1966. In 1967 he attended the Army Staff College at Camberley which was followed by two staff tours, one with HQ 17 Division in Malaya and one with HQ Far East Land Forces in Singapore. He then returned for a further tour with 40 Commando Royal Marines in 1972 and carried out two tours in Belfast, Northern Ireland for which he received a Mention-in-Despatches. A staff tour in Department of the Commandant General Royal Marines and one in HQ Commando Forces was followed by assuming command of 40 Commando in 1978. The following year he took his unit to Northern Ireland for a year, and was awarded the OBE for his service in Northern Ireland.

Promoted Colonel in 1979, he returned to London as Colonel Operations/Plans, and in 1983 he was appointed Commander of 3 Commando Brigade Royal Marines, with it role on the northern
flank of NATO. He was appointed Royal Marines ADC to Her Majesty the Queen for two years in 1983. Promoted Major General in 1984, he became Chief of Staff to the Commandant General, and in 1987 he became Commandant General Royal Marines as a Lieutenant General, a position he held until 1990. He was awarded the KCB in 1987.

He is married to the former Jill Parks-Smith, herself the daughter of a Royal Marines officer who was killed on the Dieppe raid in 1942.

On retirement from the Royal Marines Martin Garrod settled in Deal in Kent, and since 1993 has been serving in Bosnia with the European Community Monitor Mission.

Martin Garrod was a 'Horsie' boy. He returned to England to finish his secondary education and hence there is but little reference to him. However, we see that he was keen on music and graduates from progress prize in music to Honours (94%). He also wins a class proficiency prize.

Apart from this, he stars in 'Jan of Windmill Land' and can (with difficulty!) be identified in an accompanying photograph.

Martin's daughter, Katie, taught for a year at Sherwood. Her intrepid spirit has taken her to various parts of India in various 'avatars'. She has her father's great love for India.