AMITABH BACHCHAN
Recipient of the Old Sherwoodians' Millennium Award for Outstanding Achievement conferred during the Reunion on 14.10.2000.
---
---

AMITABH BACHCHAN

Recipient of the Old Sherwoodians' Millennium Award for Outstanding Achievement conferred during the Reunion on 14.10.2000.

BOARDING SCHOOL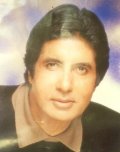 It was Marsh (a friend) who put the idea of going to a boarding - school in my head. So when my father decided to take up a new assignment in Delhi, Bunty and I went to Sherwood College, Nainital.

Sherwood caused a few problems initially. I used to be very good at studies earlier, till the sixth standard, when I'd be among the first three. But at Sherwood, I suddenly found the going tough. Maybe because the standards were higher. It was a difficult phase. I tried to make up by excelling in sports. I was good at athletics - 100, 200, 400 metres and broad jump. The first time I went into the boxing ring, I won a cup. Bunty was very good at sports, too. We won innumerable cups...

When Dad was at Cambridge, we got ourselves photographed with all our cups and sent our pictures to him. When I won the boxing championship, he sent me a book on boxing with a quote: "Good hard blows are delights to the mind." He always encouraged us to excel in what ever we did.

Of course, the school that influenced me most was Sherwood College in Nainital. If I had to talk about Sherwood I would write book on it! Those three years were by far the happiest times of my life. Or maybe one feels like now. The feelings weren't there when I was there - but now that I look back on it they were marvellous days. What I am now is largely because of Sherwood. It taught me to be independent, fearless, loyal and truthful. It taught me values and these, I think, have stayed with me through life.

The spirit to face life in whatever circumstances came, I think, from the boarding discipline at Sherwood. In fact, it's things we picked up at boarding school that I am using even today... And little things contributed to this. A lot of personality traits, I think, were formed in those impressionable days. Boarding - school taught me self-sufficiency, independence and how to fend for myself. Even the more refined details like how to dress, how to conduct oneself, how to treat a lady were all a part and parcel of public school grooming.

I grew up with my normal share of girlfriends. The way we were brought up, it was considered normal to mix with the opposite sex. We moved in groups and the girls came home, just as we went over to their houses. It was only later in college, that we had undivided girlfriends. But again, this was more for reason of fashion than because we had suddenly developed a physical attraction. While in school, the boys' school had a collective curiosity about the girls' schools.

Every Sunday evening our sister-school came to Sherwood to attend chapel. That used to be a great moment for us ! All of us would rush to occupy the rows just behind the girls, for it became easier to pass on the 'love notes!' That's not all. All of us would be on our best behaviour, perform extremely well in athletics, in boxing and on stage when the sister school was watching. We took great relish in rushing to meet our favourite at the school boundary wall, if only to tell her what we did in the Geography class that morning. Such innocent joys yet even so fulfilling that even today one cannot recreate such happiness.

One incident, very precious to me is of the time I was in my second year at Sherwood. It was the month of June and the school was celebrating its Founder's Week, when all the students put up all kinds of parades, P.T., exercises and drama and music recitals. Parents of the children came from all over to join the festivity. My parents were coming, too. They had been informed that I was taking part in the School play. The previous year I had won the Kendal Cup (donated by Geoffrey Kendal, Jennifer Kapoor's father) for the best actor's award. I was hoping to win the same award this year.

In fact, everyone was quite sure that I would most certainly do. It had never happened, though, in the history of Sherwood. No one student had ever won this award for two consecutive years. But I was hoping to. The play, an Agatha Christie, was titled "And Then There Were None". It was a murder mystery and I played the role of a judge. In the afternoon, after our dress rehearsal I suddenly started feeling dizzy. The doctor examining me said I had measles and confined me to a separate room. I was heart-broken ! Here, I had worked all these months, and now I couldn't do the play. I felt miserable. I didn't know what to tell my parents who were coming all the way from Delhi, especially to see me perform and now it was all so futile. Not only that, I would have to sit in this lonely room, all by myself, and suffer it since nobody was allowed near me.

It was late evening, an hour before the play, I think. The school hospital, where I was, was perched on top of the hill, making it possible for one to see the main building and also the auditorium... I sat by the hospital window, watched the man pull up the curtains, switch on the lights, and my heart sank... Just then the door opened... It was my father I don't know how he managed it, but he had sought special permission from the Principal to be with me during these hours. Somehow he knew. I can't really remember all that he said to me in those two hours, but he sat on the bed besides me and talked... to keep my attention diverted... so that I would not hear the sound of the applause downstairs. It wasn't easy for me. It disturbed me hearing another actor speak my lines, wear my costume and steal the show, which was rightfully mine. But that day my father gave me the greatest lessons of my life.

Something I have always cherished and which has stood by me in crisis. He said "Jeevan mein, apne man ka ho to achcha hai, apne man ka na ho to zyada achha". If what is happening is something you like, fine. If not you must not worry for it is not in your control... it is in the control of the Almighty, and the Almighty, will never do anything that is said to be wrong for you. He backed up what he said with various incidents and examples, and though at that time I was too depressed, too full of my pain to understand it completely... later when the sorrow subsided, I saw the wisdom of his words, the enormity of his message. For when you are 20, you don't see logic, but when you are 30, you do. And when you are 40, you mellow and at 50, of course, you accept. Sometimes when I look back I think of the various accusations hurled at me... Fairfax, Bofors, on the various political victimizations, I wonder where I got the strength to fight it all. But now I do. I must have drawn my strength from all that I picked up from my parents, my school... Values inculcated in my childhood. And that's what I want to pass on to my children. They are, after all, the new generation and the optimism must continue...

THE PHENOMENON
The multi-million dollar industry did not happen overnight. It was a long, hard grind to the top, and it didn't help when everybody told him that he had made a foolhardy move to give up the promising and secure would of an executive for the rough and tumble of filmdom. He was bound to fail, they said.
The rejections and humiliations were there, but Amitabh kept at it. The spirit to endure, to preserve, admirable qualities that inspire greater reverence than the reputation, which he has built.

He set trends. In an industry where punctuality was a word found only in the dictionary, where every top star underlined his status by arriving late, he was always on time, often the first to arrive. He doesn't wear flashy jewellery and fancy clothes that scream for attention; he does not arrive with a coterie of hangers - on in tow; nor does he demand that the script be changed to suit him. Amitabh is a complete professional.

Speaking of the poor in his constituency, he speaks with a conviction and sincerity that belies his critics' accusations that his expression of sentiment is fake. He talks of hope, the faith in the eyes of those who have nothing and their appreciation even when he does not have anything to offer. "They believe me so readily, when I say that I can't change everything". He goes on, "They say, 'Never mind, at least you have come to see us.'"

ON HIS ACCIDENT
This whole incident has made me aware of two things: 'Firstly, it has reiterated my faith in the unknown. We are a religious family; we have our 'pujas' and our own little temple. My faith has been strengthened. When you look at the technical records, there is no other logical reason for my recovery. Secondly, I have acquired a tremendous respect for the medical profession.'
ON HIS PERSONAL HABITS
No, I do not smoke, drink or eat meat. It is not anything religious, but simply a matter of taste. In our family, my father is a vegetarian while my mother is not. Similarly, Jaya eats meat and I do not. I used to eat meat - in fact, I used to drink and smoke as well, but now I have given them up. In Calcutta I smoked 200 cigarettes a day - yes, that's right, 200, but then I gave it up after coming to Bombay. I used to drink, too - anything, we'd drink anything we could get our hands on, but a few years ago I decided that I really did not need it. My habits do not cause me any trouble except when I am shooting abroad. Then it gets difficult to get vegetarian food abroad. But now, there are Indian restaurants nearly everywhere, even in Amsterdam. We were shooting 'The Great Gambler' and I discovered, to my surprise, that there were lots of Indians in Holland.

In filmland, where petty jealousies and rivalries mark human inter-action, Amitabh Bachchan stands tall. There is a modesty, a generosity of spirit, 'and easy mellowness', as one writer put it, in the expression of his appreciation of another's acting ability.

How will history remember Amitabh Bachchan? Vir Sanghvi says, "He will be remembered as a star who broke all the rules; as the executive who made the inexplicable decision to pack it all and become an actor. As the first super-star who was not good-looking and proved that it did not matter.

Vir Sanghvi described him as 'the only star whose ego did not carry him away. He remained careful never to seem starry or overbearing.' Who came out of nowhere and punched their way into the big time; as the only actor who was able to tell the press to go to hell and still laugh all the way to the bank; and as the only superstar who lasted so long, unchallenged at the top'.

HIS WIFE SAYS

What I saw in Amit was a lot of strength, which was lacking in me. Strength, not the sense of muscle strength. He had dignity in whatever he did.
Click here to leave your comments.....
---
| Eminent Sherwoodians |
---